By Holly McKee, published on 15th March 2016
PGlmcmFtZSB3aWR0aD0iMTIwMCIgaGVpZ2h0PSI2NzUiIHNyYz0iaHR0cHM6Ly93d3cueW91dHViZS1ub2Nvb2tpZS5jb20vZW1iZWQvdWVIbDVxeEcwazg/cmVsPTAmY29udHJvbHM9MCZzaG93aW5mbz0wIiBmcmFtZWJvcmRlcj0iMCIgYWxsb3dmdWxsc2NyZWVuPjwvaWZyYW1lPg==
Vitamin A testing made easy
With the innovative portable method, iCheck Fluoro, vitamin analysis has been made more accesible and is no longer bound to a lab. How? Our new video, created by local Berlin designers, says it best. Just click on the image above to watch. Enjoy!
Milk is often fortified – why?
Whole milk is naturally a nutrient rich food. It has significant amounts of vitamin A, a micronutrient crucial for eyesight and development. Present in lower quantities are B vitamins and D, E, K, C. During the production of skimmed milk or milk powder, vitamin A, and other fat-soluble compounds are removed along with the fat, thus reducing the nutritional value of milk. To replenish the nutrients lost during processing, milk is often enriched with vitamins A & D. Additionaly, the content of vitamins in whole milk can vary significantly depending on the feeding patterns of the cattle. For example, in the summer when the cattle graze on fresh pastures, the vitamin contents can be 3 times of that in the winter when cattle feeds on dry forage. Vitamins are added back to reduced fat liquid or powdered milk in the dry premix or oil form. Measuring the vitamin content along the value chain – from raw milk to finished product, can help to ensure a nutritious product.
Delivering lab level accuracy
A recent study by researchers from IRD compared iCheck Fluoro to HPLC, the reference method. The results showed that the new method is as sensitive as HPLC and sometimes more sensitive*. Read the full article here.
Vitamin A Recovery in Milk Obtained with iCheck Fluoro and HPLC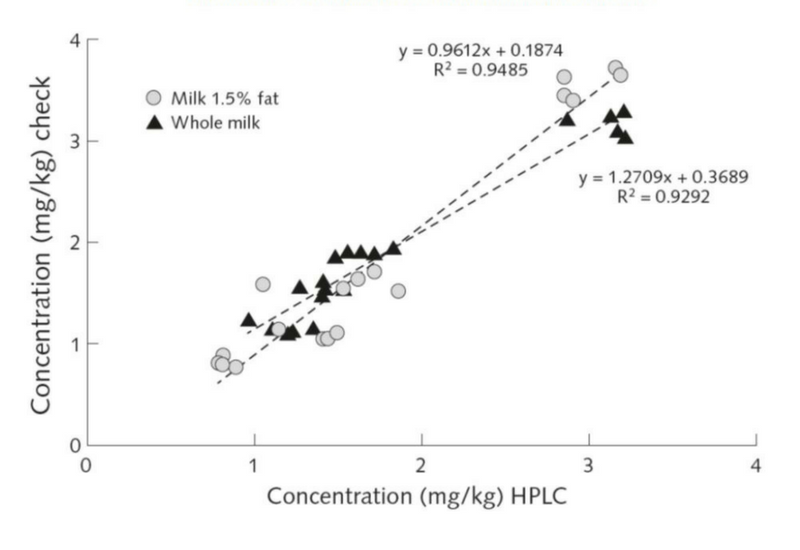 *Laillou A, Renaud C, Berger J, Moench-Pfanner R, Fontan L, Avallone S: Assessment of a portable device to quantify vitamin A in fortified foods (flour, sugar, and milk) for quality control. Food Nutr Bull. 35(4):449-57, 2014.