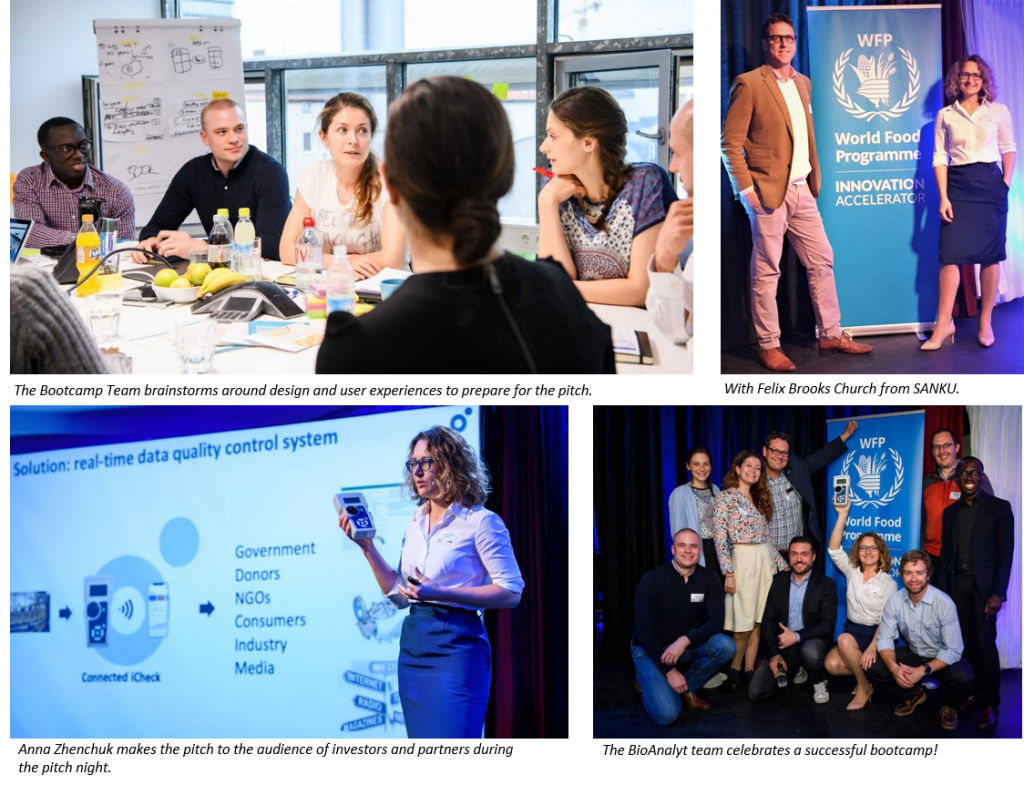 Out of over 900 applications, BioAnalyt was one of eight companies shortlisted for the WFP&Cargill Innovation Bootcamp which took place at the WFP Accelerator in Munich, Germany during 13th-17th of May 2019.
This intensive 5-day bootcamp took us on an exciting learning journey with guidance of experienced facilitators and mentors from Cargill, WFP and BASF.  The key modules of this bootcamp revolved around user-centered design, lean startup thinking, and hacking the market to augment product and user experiences. All the participants had training sessions and practice runs on how to pitch effectively. But it wasn't all work! The highlight of each morning was a Zen-moment for mindfulness, where we had meditation sessions to prepare our minds and souls for the day's activities.
What were the biggest challenges/learning for us? Anna Zhenchuk: "The toughest job was to distill the solution we are working on down to a 3-minute compelling story. It is almost an art!" Julia Onyshchenko: "My biggest realization was that our new solution – connected iCheck – can actually create a missing positive nudge to engage in fortification." Jan Quest: "My biggest learning was about user centered design: people ignore design that ignores people."
The climax of the week was the pitch night where all eight companies or teams took turns to pitch their innovations. The audience included experts and investors from GIZ, Cargill, WFP, Boston Consulting, and BASF. BioAnalyt's innovation is centered around connecting our portable iCheck devices to a web and mobile application to make reporting of QA/QC data easier, save time, and minimize human errors. Connected iCheck will provide quality sharable data and visualizations for efficient decision-making.
During the pitch night, we were able to discover inspiring innovations from the other seven teams and how each of the innovations, including BioAnalyt's, contributed to the fulfillment of SDG 2: Zero Hunger. We were particularly excited to meet our partner SANKU at the bootcamp. SANKU'S CEO, Felix Brooks-Church, made a truly impactful speech at the pitch night about what micronutrient deficiencies mean to growing children and how SANKU is tackling this challenge.
We want to give particular thanks to:
Shane Prigge, Food Quality and Safety Officer at the WFP Regional Bureau in Egypt, for his guidance on user-focused solutions;
Manuel Ossa, Head of Operations at the Innovation Accelerator, for guiding us through this bootcamp;
Manasi Kumbhat, Dirk Robers, Jonathan Schauer from Cargill and who helped us distill down our message for the pitch night;
Dr. Andreas Bluethner, Director of Food-Fortification & Partnerships at BASF, for his guidance on the role of strategic alliances to engage key stakeholders and to bring solutions to scale.
The next stage is the SPRINT program – an intensive 3-6 month accelerator that helps start-ups and WFP teams reach proof of concept and/or develop prototypes ready for implementation. We hope to join it and also wish to reunite with the other teams. As a small company with about 20 team members, BioAnalyt was very honored to have been invited to participate in this event. You will hear from us again in few weeks time!