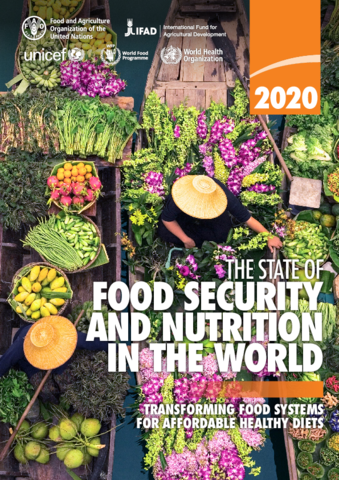 The State of Food Security and Nutrition in the World (SOFI) is an annual report prepared by FAO, IFAD, UNICEF, WFP and WHO with the aim of informing the world about the progress on the goal towards ending hunger, achieving food security and improving nutrition of populations. The report provides in-depth analysis on key challenges for achieving this goal mentioned earlier in the context of the 2030 Agenda for Sustainable Development. The SOFI 2020 Report confirms a trend reported in past editions: there has been a gradual increase in the number of people affected by hunger globally. The report also shows the persistent continuance of the burden of malnutrition in all of its forms. There has been some progress made in reducing child stunting, low birth-weight and exclusive breastfeeding. However, the pace of progress still remains very slow. Adult obesity is on the rise in all regions and childhood overweight is not improving worldwide. Here are our 10 key points from the SOFI 2020 Report:
Current estimates are that nearly 690 million people (or 8.9 percent of the world population) are hungry – up by 10 million people in one year and by nearly 60 million in five years.
An estimated 2 billion people in the world did not have regular access to safe, nutritious and sufficient food in 2019.
The world is not on track to achieve Zero Hunger by 2030. If recent trends continue, the number of people affected by hunger would surpass 840 million by 2030.
A preliminary assessment suggests that the COVID-19 pandemic may add between 83 and 132 million people to the total number of undernourished in the world in 2020 depending on the economic growth scenario.
Globally, the burden of malnutrition in all its forms remains a challenge. According to current estimates, in 2019, 21.3 percent (144.0 million) of children under 5 years of age were stunted, 6.9 percent (47.0 million) wasted and 5.6 percent (38.3 million) overweight.
Even though progress is being made worldwide, the 2025 and 2030 targets for child stunting and low birth-weight may not be reached. The 2025 target for exclusive breastfeeding is on track. The prevalence of wasting is notably above the targets.
The nutritional status of the most vulnerable population groups is likely to deteriorate further due to the health and socio-economic impacts of COVID-19
Under current food consumption patterns, diet-related health costs linked to mortality and non-communicable diseases are projected to exceed USD 1.3 trillion per year by 2030. On the other hand, the diet-related social cost of greenhouse gas emissions associated with current dietary patterns is estimated to be more than USD 1.7 trillion per year by 2030.
Shifting to healthy diets can contribute to reducing health and climate-change costs by 2030, because the hidden costs of these healthy diets are lower compared to those of current consumption patterns. The adoption of healthy diets is projected to lead to a reduction of up to 97 percent in direct and indirect health costs and 41–74 percent in the social cost of greenhouse gas emissions in 2030.
Countries will need a re-balancing of agricultural policies and incentives towards more nutrition sensitive investment and policy actions all along the food supply chain to reduce food losses and enhance efficiencies at all stages. Nutrition-sensitive social protection policies will also be central for them to increase the purchasing power and affordability of healthy diets of the most vulnerable populations. Policies that more generally foster behavioural change towards healthy diets will also be needed.
Click here to learn more about the findings of the SOFI 2020 report.